Following the Oka Crisis in 1990, Aboriginal Affairs and Northern Development (AANDC) sought ways to improve cultural understanding among staff. A solution for AANDC was to build an Elder's Cultural Facility at the Departments headquarters in Hull, Quebec. The so-named "Kumik Lodge" was built in order to provide Aboriginal and non-Aboriginal employees the opportunity seek guidance and teachings from Native Elders and Teachers. The Kumik offers people the chance to gain greater appreciation and understanding of native culture and its philosophies.
Building on the success of the Kumik, the opportunity arrived to build a similar facility in AANDC's Ontario Regional Office in Toronto. The lodge has been named "Dodem Kanonhsa'". Dodem is an Anishinabem (Ojibwe) word meaning 'Clan', and Kanonhsa' is Kenienkeha (Mohawk) meaning 'Lodge', and is transcribed into Cree syllabics. The name was chosen in order to represent three main cultural groupings prominent to the Ontario Region.
DODEM KANONHSA' MEANS: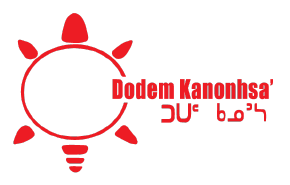 Dodem Kanonhsa' prounounced Doh-dem  Gah-noon-sah opened on September 21, 1998.
Dodem is an Anishinabem (Ojibwe) word meaning "Clan" or family, and Kanonhsa' is Kenienkeha (Mohawk) meaning "lodge", the name is also transcribed into cree syllabics.
The name was chosen to reflect the most prominent Nations found in the Ontario Region.
THE TURTLE: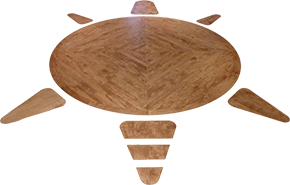 The centre of our Lodge features an image of the Turtle. A symbolic animal of the Anishnabem and Haudenosaunee people, North America is still referred to as Turtle Island.  "Father Sky's wife fell through a hole in the sky, and to keep her from drowning, little Muskrat managed to bring up a handful of soil from the bottom of the Ocean…she placed it on the turtle's wide back…"
THE LODGE: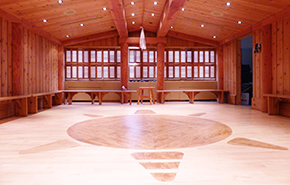 The lodge is a place for people from all Nations, background and Ancestry, to learn from and speak with our Aboriginal Elders and Traditional Teachers. The Dodem Kanonhsa' is open Monday through Friday, and is located on the 6th floor of the Arthur Meighen Building at 55 St. Clair Avenue East, Toronto, Ontario.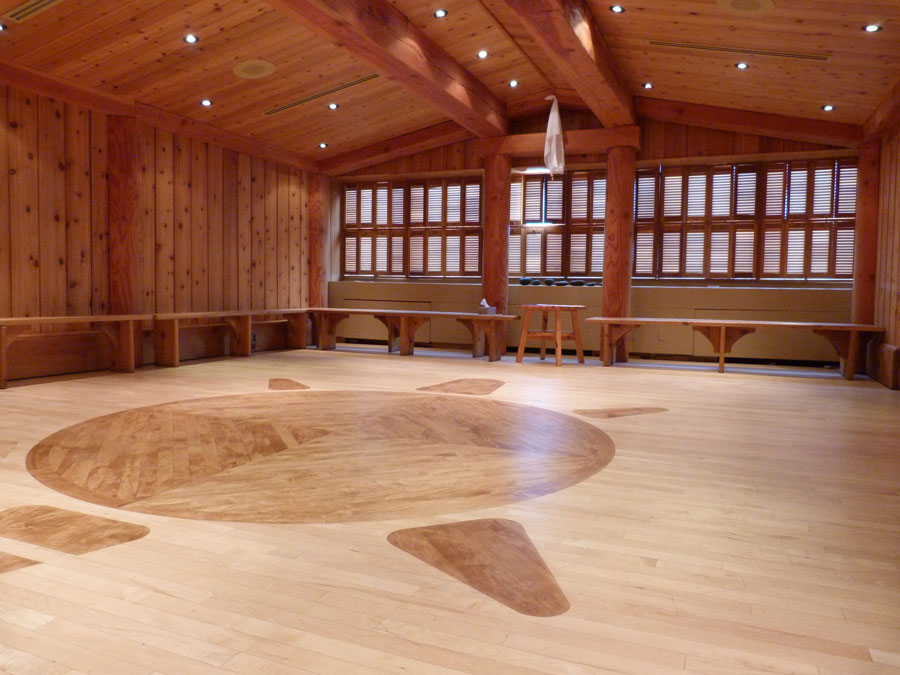 Cultural Awareness
Sharing cultural teachings, traditions and language is the purpose of the lodge. We host training sessions, circles and workshops on a variety of topics (eg. Medicine wheel teachings, etc).
One-to-One Sessions
Elders & Traditional teachers are available twice per month to help individuals and families seeking guidance and harmony.

Approaching an Elder
There are certain protocols when visiting an Elder for the first time. When speaking with the helper or Lodge staff, protocols will be shared about the following:
Offering of tobacco

Sacred items

Moon time

Smudging
ACCESIBILITY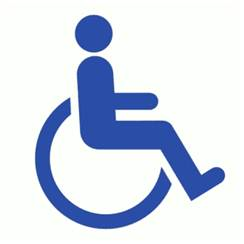 Fully wheelchair accessible
Scent-sensitivities?
Please call ahead 416-952-9272
Public washrooms located down the hall on our floor
HOURS
Monday to Friday
8:30am to 4:30pm
Closed on all major Holidays
Including Remembrance Day, November 11
CONTACT US

Dodem Kanonhsa' main line: 416-952-9272
ADVISORY COMMIITTEE
Larry Frost – NCCT
Marsha Moshinsky – AANDC Liaison Officer
Jamie Maracle
Carolyn Young
Penny Ramdeo